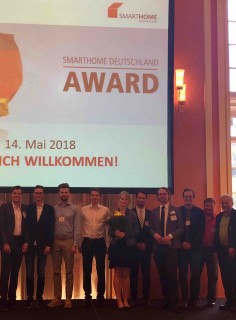 Following the outcome of 2017, the iHaus iPraktikum team of the winter term 2017/18 again received the first place in the category "best student achievement" ("Beste studentische Leistung") at the SmartHome Deutschland Award 2018. Over the course of one semester, the eight students have developed the iHaus DNA system.
The current generation of smart homes comes with a great variety of sensors and actuators. Many of these devices interact with each other, creating a unique footprint of the occupants' routines and behavioral patterns. At the same time, there is a high effort for occupants in setting up rules for the automation of their regular activities. The iHaus DNA system tackles this problem by smartly detecting daily habits and suggesting their automatic execution to the occupants. Furthermore, the iHaus DNA system is able to identify anomalies and thereby contributes to its user's comfort, security, safety, and health.
As part of an all-day event in the Rotes Rathaus in Berlin on May 14, 2018, the students presented the project and thereafter received the award for the first place. The SmartHome Deutschland initiative represents a trade-spanning, interdisciplinary communication platform to enable information exchange between regional smart home organizations and representatives of research, development, industry, commerce, and craft.