Results of the iOS Praktikum SS 2012
(Stephan Krusche, Martin Wagner and Bernd Bruegge, July 2012)
Results of other years
Goal
The objective of the iOS Praktikum is the development of applications that experiment with modern user interface requirements. Students get to know background, tools and methods required to develop applications for the iOS. In addition to software engineering concepts like object oriented analysis, design and realization of GUI based applications, they learn the key concepts of usability engineering. Real industrial partners provide their problem statements. Students get real team and project experience while actually using real data and working tightly together with their client.
Eleven companies participated in the iOS Praktikum 2012, each with a different problem statement and its own development team. More than 80 students developed these great applications. 
Project Overview
The following companies participated in the iOS Praktikum 2012 with the shown project topic.
A click on the topic or on the company logo leads to more details about the project and the video of the final presentation including a demo of the developed application.
Program Management
Organization
The organization chart below shows the structure of the course. In the horizontal. All projects are visualized as columns including company logo, customer-liaisons, instructor, coach and project team. Additionally the heads of cross-project activity teams are shown in the last column. These cross-project teams including one student in each team are highlighted as rows. Above the overall program (i.e. course) management and other participating persons responsible for the infrastructure are shown.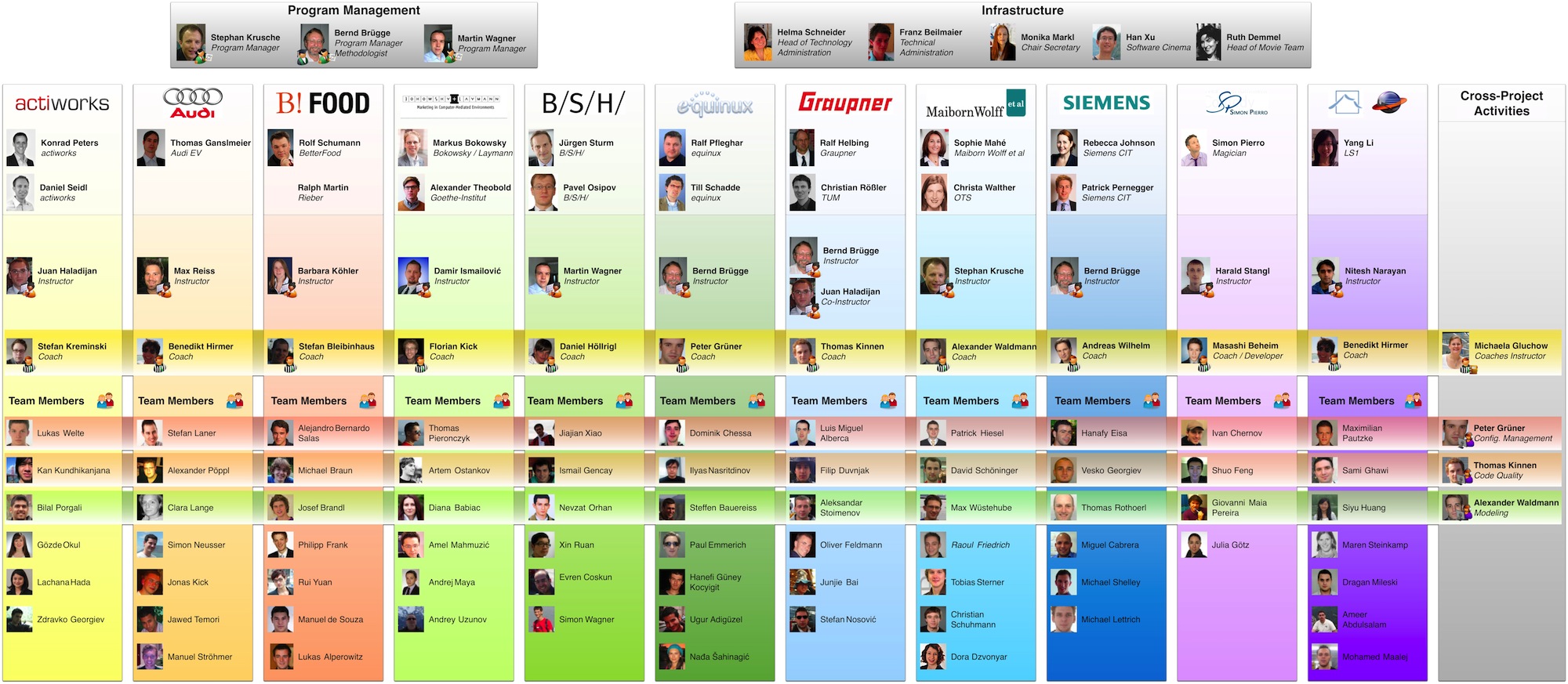 Projects
In the following table, each project is described shortly in its own row. If you click onto the company logo in the left columns, you will be directed to the company's website. In the right column, you can see the video of the final presentation at the Customer Acceptance Test (July 19, 2012). It includes a demo of the developed application in a real scenario (software theatre). You can also download the videos in HD or SD, by right-clicking onto the provided links below the video and choosing Download File As...
Link to Company

Project

Demo Video

Description:

Globalization fosters the need for flexible, robust and affordable teleconferencing solutions, especially for team collaboration. Though asynchronous communication channels, like email and Skype, are of great help for team communication, it is important to find a more efficient way to break the barriers created by distance and therefore increase the project output. Our main aim for this project was to create a system of iOS apps, which when integrated together would ease the communication between the teams residing in two different locations.

Participating students:

Stefan Kreminski (Coach), Lukas Welte, Kan Kundhikanjana, Bilal Porgali, Gözde Okul, Lachanda Hada, Zdravko Georgiev 

Customers:

Konrad Peters - actiworks
Daniel Seidl - actiworks

Description:

Use of the iPad as a replacement of the central console controls for the F12 Prototype. The core F12-research project is to develop a F12-prototype. It´s an electric car which looks, in general, similar to an Audi R8. The car utilizes the iPad to completely replace the central console in a comfortable and convenient way.

Participating students:

Benedikt Hirmer (Coach), Alexander Pöppl, Clara Lange, Jawed Temori, Jonas Kick, Manuel Ströhmer, Simon Neusser, Stefan Laner

Customer:

Thomas Ganslmeier - AUDI Electronic Venture

Description:

The mission was to develop an application for the iPad that is unique in its user interface, easy of use and usability. We wanted to improve the process how caterers and canteens assemble their cooking solutions by giving them a questionaire-based tool that leads them to their individual perfect solution.

Participating students:

Stefan Bleibinhaus (Coach), Alejandro Salas, Josef Brandl, Lukas Alperowitz, Manuel de Souza, Michael Braun, Philipp Frank, Rui Yuan

Customers:

Rolf Schumann - Better Food
Christian Meier - Better Food

Description:

The mission was to build an iPad/iPhone app which should assist foreigners that want to learn German. It is meant as a support tool for people that have already a basic knowledge of the German language.

Participating students:

Florian Kick (Coach), Amel Mahmuzic, Andrej Maya, Andrey Uzunov, Artem Ostankov, Diana Babiac, Thomas Pieronczyk

Customers:

Markus Bokowsky - Bokowsky + Laymann
Alexander Theobold - Goethe Institute

Description:

Interactive Help Center(IHC) is an iPad application that serves as an help center for the coffee machine Siemens EQ.7.

Participating students:

Daniel Höllrigl (Coach), Ali Gencay, Evren Coskun, Jiajian Xiao, Nevzat Orhan, Simon Wagner, Xin Ruan 

Customers:

Jürgen Sturm - Bosch und Siemens Hausgeräte GmbH (BSH)
Pavel Osipov - Bosch und Siemens Hausgeräte GmbH (BSH)

Description:

Fiffig is a new generation home monitoring system. The need to have technical infrastructure at home is replaced by a light-weight, relatively small and easy-to-configure device, Fiffig, which is composed of 7 different sensors.

Participating students:

Peter Grüner (Coach), Dominik Chessa, Hanefi Güney Kocyigit, Ilyas Nasritdinov, Nada Sahinagic, Paul Emmerich, Steffen Bauereiss, Ugur Adigüzel

Customers:

Ralf Pfleghar - equniux
Till Schadde - equinux

Description:

Filip: "Look, up there!"

Junjie: "Is it a bird?"

Aleksandar: "is it a plane?"

Luis: "Yes, it is and I am flying it with my iPhone"

Team Graupner had a very special mission. Not only did it mean to program an application, but also to learn a new skill. The skill of flying a plane by remote control. The iPhone app has to take in user commands, process these and then send them over a wire to a Graupner remote controller. Inexperienced pilots, such as our selves, spend a lot of time and money on these model planes. If they crash, there is no insurance that will cover the cost. That is why Graupner's advanced remote controllers have "Student/Teacher Mode". With it, two remotes are hooked up to one another and any command the student device give, can be corrected by the teacher device. The idea was to use an iPhone rather than an expensive model plane remote controller for the student remote. This way Graupner's customers don't have to buy two remotes to use this feature, they can simply use their iPhone.

Participating students:

Thomas Kinnen (Coach), Filip Duvnjak, Johannes Reifferscheid, Junjie Bai, Luis Miguel Alberca, Oliver Feldmann, Stefan Nosović 

Customers:

Ralf Helbing - Graupner Modellbau
Christian Rößler - TU München

Description:

All-inclusive tours enjoy great popularity among german travelers.

The current business model is as follows: Touristic enterprises (TUI, Thomas Cook,...) bundle complete packages consisting of flights, transfers and hotels and offer them to travelers via tourist offices for all-inclusive prices. During the tour so called incoming agencies (OTS, MTS, Go Caribic,...) are in charge of the traveler's well-being. They provide the travel guides, organize trips and care for the travelers problems in case of emergencies in the name of the touristic enterprises.

Our customer Open Travel Service S.A. is such a network of incoming agencies. In cooperation with the software company MaibornWolff et al GmbH we have developed a prototype app to enhance the process efficiency and communication between the travel guides and the travelers.

Team members:

Stephan Krusche (Project Leader), Alexander Waldmann (Coach), Christian Schuhmann, David Schöninger, Dora Dzvonyar, Max Wüstehube, Patrick Hiesel, Raoul Friedrich, Tobias Sterner

Customers:

Sophie Mahé - Maiborn Wolff et al
Christa Walther - OTS

Description:

In today's world the locating of conference rooms and colleagues within greater buildings such as those present on the Siemens Neuperlach site can pose quite a challenge to the company's employees. This will be even further complicated in future due to the planned introduction of a flexible office concept, involving multiple workplaces per employee. Siemens therefore requires means to find and navigate to certain points or people within the company buildings.

SiSta suite main objective is to provide a complete platform to help siemens employees to locate find important locations inside Siemens building, including but not restricted to conference rooms, colleagues' office, bathrooms, coffe machines and other point of interests.

Participating students:

Andreas Wilhelm (Coach), Hanafy Eisa, Michael Lettrich, Michael Shelley, Miguel Cabrera, Thomas Rothoerl, Vesko Georgiev

Customers:

Rebecca Johnson - Siemens CIT
Patrick Pernegger - Siemens CIT

Description:

"Digital magic for everybody" - our goal was to design and develop an iPhone application, that makes it possible for everybody to do amazing tricks with the iPhone, based on Simon Pierro's "iPad Magic". To distance the application from existing "magic apps" on the market, our aim was to create many and very different effects and build the perfect fake homescreen. For our project, the best result was be to have an application that nobody will acknowledge as an application.

Participating students:

Masashi Beheim (Coach), Giovanni Pereira, Ivan Chernov, Julia Goetz, Shuo Feng

Customer:

Simon Pierro

Description:

The Unicase project brought meeting management and UML modelling capability to the iPad. In order to further simply the usage of those applications and augment touch-based interaction, the Unicase-Speak team decided to use voice recognition technology to allow speech control of the main features of these applications. Thus the main goal of Unicase-Speak is incorporating speech functionality into the Unicase apps, as well as improving, extending and maintaining their existing functionality.

Participating students:

Benedikt Hirmer (Coach), Ameer Abdulsalam, Dragan Mileski, Maren Steinkamp, Maximilian Pautzke, Mohamed Maalej, Sami Ghawi, Siyu Huang 

Customer:

Yang Li - TU München

Please visit the project website for more information.