Machine Learning Applications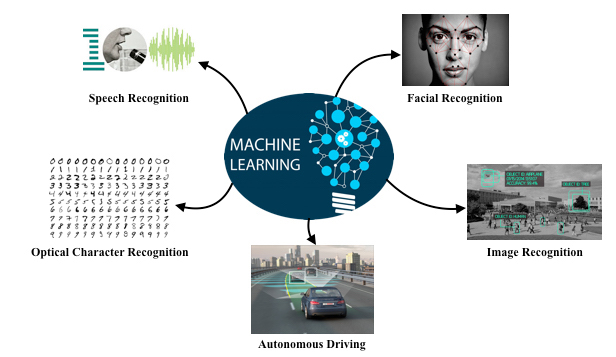 Machine learning is the sub-field of Artificial Intelligence (AI) that gives computers the ability to learn without being explicitly programmed. Evolved from the study of pattern recognition and computational learning theory in artificial intelligence, machine learning explores the study and construction of algorithms that can learn from and make predictions on data – such algorithms overcome following strictly static program instructions by making data driven predictions or decisions, through building a model from sample inputs.
Machine learning allows us to tackle tasks that are too difficult to solve with fixed programs written and designed by human beings. From a scientific and philosophical point of view, machine learning is interesting because developing our understanding of machine learning entails developing our understanding of the principles that underlie intelligence. In the early days of artificial intelligence, the field rapidly tackled and solved problems that are intellectually difficult for human beings but relatively straight- forward for computers; problems that can be described by a list of formal, mathematical rules. The true challenge to artificial intelligence proved to be solving the tasks that are easy for people to perform but hard for people to describe formally; problems that we solve intuitively, that feel automatic, like recognizing spoken words or faces in images.
Machine Learning and its algorithms are about a solution to these more intuitive problems. This solution is to allow computers to learn from experience and understand the world in terms of a hierarchy of concepts, with each concept defined in terms of its relation to simpler concepts. By gathering knowledge from experience, this approach avoids the need for human operators to formally specify all of the knowledge that the computer needs.
Machine learning is employed in a range of computing tasks where designing and programming explicit algorithms is unfeasible; example applications include spam filtering, speech recognition, optical character recognition, search engines and computer vision.
Projects
Theses Offered
Masterthesis
Wearable Activity Recognition
Advisor
Juan Haladjian
Date
03.03.2018
My field of research is on machine learning with wearable sensors. One possible application field is sports (e.g. counting the amount of repetitions of an exercise, measuring athlete's performance), another is veterinary medicine (activity recognition for animal: eating, walking, resting). If you have access to a specific animal or perform a specific sport and want to automatically extract context information, we could work on it together. Feel free to contact me with your idea.
For more information about applying to this thesis, visit my website.
Masterthesis
Embedded development of a sports application.
Advisor
Juan Haladjian
Date
03.03.2018
We are developing a virtual coach for goalkeeper training with a famous German goalkeeper. We have a wearable device with an integrated 9-axis IMU (accelerometer, gyroscope and magnetometer). The goal of this thesis is to develop a firmware (in plain C) that performs computations (e.g. mean, correlation, fast fourier transform) on the wearable device and sends the results over to an iOS application. Our wearable device is based on InvenSense's ICM20602 and uses an external magnetometer.
For more information about applying to this thesis, visit my website.
Theses In Progress
Master's Thesis
Sorting Fasteners based on their Similarity using Siamese Networks
Advisor
Sajjad Taheri
Date
-
The scope of this master thesis is to build an (semi)automatic system to train a Siamese net to find the similarity of the fasteners (namely bolts, nuts, screws and washers). Using the output of the Siamese net, the system should group and sort the fasteners in similar groups (in a fine-grained manner. For example it should put all the AS1800 bolts in one group and all the MS2650 bolts in another one). To successfully undertake this thesis, you need to have solid knowledge on machine learning and convolutional neural networks, together with experience in Python programming and working with at least one deep learning framework (Keras, PyTorch, TensorFlow).
Theses Finished
Master's Thesis
LeSRec: Using the Asymmetric Weight Allocation for a Learner Speech Recognition System
Advisor
Sajjad Taheri
Date
15.11.2017
Implementing a Speech Recognition System, which can learn fro the user input. The idea is to build an application to be able to monitor the system performance an give it feedback regarding the recognized phrases. These sample, together with the corrected labels, will be used to retrain the model to improve the performance.
Bachelor's Thesis
Providing Training Dataset for Automatic Recognition of Small Parts
Advisor
Sajjad Taheri
Date
15.03.2017
Study the current approaches to get the right dataset for deep learning processes and implementation of an application for automatic data augmentation to enrich the training dataset
Master's Thesis
Action Recognition Framework in Overhauling Processes
Advisor
Sajjad Taheri
Date
15.10.2018
An expert level know-how is considered as one of the most important factors in dealing with overhauling processes. What has been already done and what has to be done now? The aim of this master thesis is to be able to understand the process, the already done tasks and still to-do tasks using the computer vision and machine learning based approaches. The challenge is to come up with a proper representation of the whole process to the system that helps us to fetch the needed information.
Bachelor's Thesis
Getting Depth Image of Small Parts Using Multi-Cameras
Advisor
Sajjad Taheri
Date
15.10.2018
Since the small parts and fasteners are scale-variant (which means that with scaling them we'll end up having another small part), classification of them needs a fixed camera to ensure that the distance between the camera lens and the object is always fixed. However, using two or more cameras, we are able to get the depth information of the objects, including their size. In this bachelor thesis, you will work on getting these depth images, using two or more cameras. The true challenge is to consider the small parts characteristics (their small size and their shiny surface) and find solutions to handle them.
Masterthesis
Adaption of an automated machine learning approach for the analysis of industrial equipment sensor data
Advisor
Dominic Henze
Date
15.05.2019
Masterthesis
An Audio-based Approach for Industrial Equipment Predictive Maintenance
Advisor
Dominic Henze
Date
15.11.2018
Masterthesis
Linkage of Rationale with Developers' Communication Artefacts
Advisor
Rana Alkadhi
Bachelor's Thesis
Classification of Diatoms Using Convolutional Neural Networks
Advisor
Sajjad Taheri
Date
15.04.2018
Creating dataset for the diatoms (small algae which can be found in all waters), train a model using convolutional neural nets to classify them, and compare the results with the traditional methods.
Masterthesis
Mining Rationale from Issue Tracking Systems
Advisor
Rana Alkadhi
Master's Thesis
A Multi-view CNN Approach to Classify Bolts and Nuts in Overhauling Processes
Advisor
Sajjad Taheri
Date
15.05.2018
A new approach to create datasets for classification of different nuts, considering the inner threads and camera angle. The challenge is to preserve the size information of the small part, using a fixed camera and fixed distance to that, while pointing out the camera lens to the nut in specific angles that it can capture its threads, length and overall shape. Using this setup and also other pictures, you will train a model with convolutional neural network to classify different nuts.
Master's Thesis
Automatic Detection of Damaged Small Parts during Overhauling Processes
Advisor
Sajjad Taheri
Date
15.04.2018
Creating a model to detect damaged small parts (screws, bolts, nuts, pins, washers, etc.) in overhauling industrial machineries, using deep learning and convolutinal neural networks
Master's Thesis
Using Synthetic Data for Classification of Small Parts
Advisor
Sajjad Taheri
Date
15.03.2018
Studying methods to create datasets from 3D models and use them in training a model for small parts classifier. This method will be compared with the normal manually photographing approach in terms of usability of dataset creation and performance of the classifiers.
Masterthesis
Extraction of Rationale from IRC Messages of Open Source Software Developers
Advisor
Rana Alkadhi
MA-BA
TUMA: Intelligent Tutoring System for Manual-Procedural Activities
Advisor
Zardosht Hodaie
Date
2017/2018
A manual-procedural activities (MPA) involves following the steps of a given workflow for manipulating the physical world. Examples include manual assembly, repair and maintenance, different crafts, cooking, etc. To learn an MPA the trainee needs to master both the steps of the procedure and the hand skills required for manipulating physical objects and the using the tools. TUMA: An Intelligent Tutoring System for Manual-Procedural Activities supports trainees in learning an MPA. 
Multiple topics available in context of the TUMA project. For details of the topics please see my chair web page. 
Bachelorthesis
Mining of Chat Messages to Reconstruct Rationale
Advisor
Rana Alkadhi, Emitzá Guzmán Ortega
Master's Thesis
Comparison between Cloud-based and Offline Speech Recognition Systems
Advisor
Sajjad Taheri
Date
15.04.2017
Study the popular offline open-source speech recognition systems and training/tuning them in order to compare with the cloud-based solutions
Publications