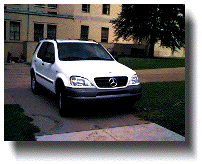 JAMES
Java Architecture for Mobile Extended Services
Smart card technology has opened up a vast range of applications. One important application will be the use of the card for the automotive industry as a value added service. Within Mercedes-Benz there are ideas and concepts for a broad spectrum of chip card applications to support physical mobility, financial mobility (financial transactions), mental mobility (telecommunication, media services), and financial security (assurances) of the card owner.
Daimler-Benz Corporation wants to reduce the variety of cards and to offer only one or two cards that can be customized for multiple purposes; i.e. that can host different application modules on demand. This is achieved by the development of a standard software architecture for automotive chip card systems. To deal with many applications the architecture must be based on a common extensible infrastructure that allows the selective inclusion of applications from a smart card application portfolio. The main focus of the JAMES project was on an architectural vision with a twofold plan: First, to establish a software architecture for automotive smart card applications and second, to identify an automotive class library providing a set of common functions for these applications.
The JAMES project had two distinct phases:
JAMES 1 (CMU): 15-413 Software Engineering - Fall 1997

This phase focused on the requirements of the JAMES system, resulting into several mockups of onboard smart card applications.

JAMES 2 (TUM): SmartCard Praktikum - WS 1997/98

This phase focused on the architecture of the JAMES system, focusing on features such as the purchase and dynamic loading of new smart card applications.
The JAMES project has been finished in June 1998.
Cooperations
GFS Program Office

The GFS Consortium included 8 companies from the car industry and Carnegie Mellon University. The main task of the GFS consortium was to sponsor and direct research projects in close collaboration with the university, so that results could be more easily transferred to consortium partners and turned into commercial products more rapidly.