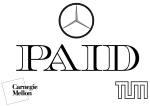 PAID
Platform for Active Information Dissemination
The major information sources today are service, parts, and vehicle documentation. Depending on the type of information the company utilizes a variety of different distribution channels for aftersales information but primarily a set of CD-ROM's which are assembled and sent to the dealerships on a monthly basis. This distribution method is very reliable but also very slow and inefficient. The amount of aftersales information is increasing due to the introduction of new aftersales information systems and the the introduction of new models.
The main focus of the PAID project was to develop a software architecture complying to the Daimler-Benz IT infrastructure and IT environment. This architecture was supposed to
minimize the proliferation of different distribution channels for aftersales information.
facilitate the distribution of aftersales information and applications to business units located at all enterprise levels (e.g. headquarters, wholesale, dealers).
establish a powerful and secure standard for information/software distribution on the Daimler-Benz Intranet and its extension the Daimler-Benz Extranet.
customize and adapt the distribution of aftersales information according to the specific business requirements of the accessing applications respectively users.
minimize the costs for the implementation of new aftersales applications and associated data distribution infrastructure facilities.
minimize the administration costs at the dealer as well at the headquarters.
The PAID architecture was successfully implemented as a prototype.
Project phases
The PAID project had four distinct phases:
15-413, Software Engineering, Fall 1998

Requirements analysis
Basic system design
First prototypical implementation
Client acceptance test in 1999

Software Engineering Praktikum - WS 1998/99

Refinement of the architecture
Preparation of test data
Enhanced prototypical implementation
Client acceptance test in 1999

15-495, Advanced Software Engineering Spring 1999

Additional work on data mining
Additional work on web learning


Software Engineering Diplomarbeiten

Evaluation of billing strategies

Field-test, May-August 1999

Refinement of the prototypical implementation
Installation of the system at selected dealerships in Germany and USA
2 week field-test with selected dealerships in Germany and USA in August 1999
The PAID project has been finished in January 2000. Documentation is no longer maintained; links to old information can be found here.
Cooperations
GFS Program Office

The GFS Consortium included 8 companies from the car industry and Carnegie Mellon University. The main task of the GFS consortium was to sponsor and direct research projects in close collaboration with the university, so that results could be more easily transferred to consortium partners and turned into commercial products more rapidly.
This page is hosted by the Chair for Applied Software Engineering of the Technische Universität München.
Imprint (Impressum)