Results of the iOS Praktikum SS 2013
(Stephan Krusche, Martin Wagner and Bernd Bruegge, July 2013) 
Results of other years
Goal
This studio course covers the development of mobile applications for smart devices, ranging from standalone applications, embedded systems including hardware and sensors to the design of modern interfaces for complex business applications. Students learn and apply software engineering and usability engineering techniques. This includes object oriented modeling and system design as well as the realization of graphical user interfaces, usability testing, continuous integration and continuous delivery. Real industrial partners provided the problem statements and acted as clients. Ten companies participated in the iOS Praktikum 2013, each with a different problem statement and its own development team. More than 100 students developed these applications using agile techniques and communicating continuously with their clients.
Project Overview
The following companies participated in the iOS Praktikum 2013. Below we show details about the projects including videos of the final presentations and demos. The videos were recorded with Boinx TV. We would like to thank the Boinx TV company for supporting us with the recording.
Program Management
Organization
The chart shows the project based organization of the course. All projects are shown as columns including information about customer, project management and development team. In addition four cross-disciplinary teams dealt with project management issues as well as configuration management, code quality and modeling aspects.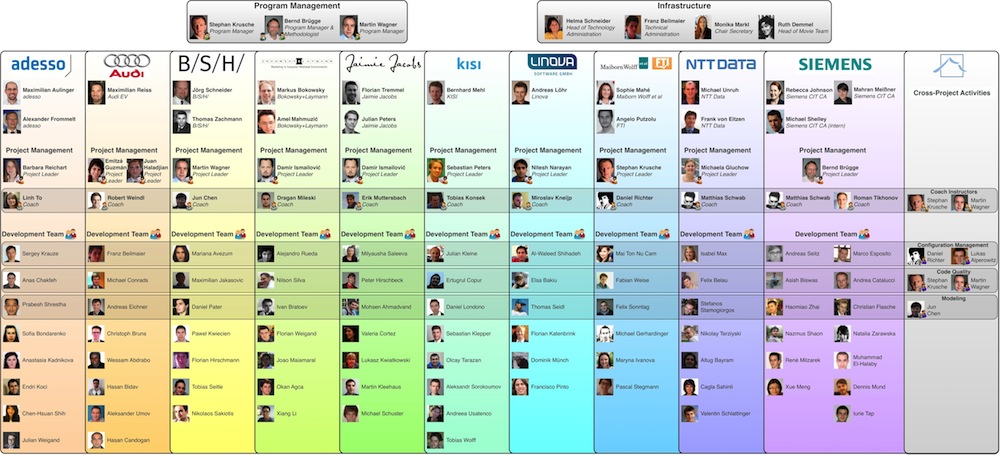 Projects
 

 

Siemens Real Estate Room Advisor (SIERRA) is a collection of three apps supporting real estate agents and facility managers. The SIERRA Collect app allows facility managers to collect sensor information such as WiFi strengths, temperature and light in rooms and buildings and store this information in a building database.

The SIERRA Office app provides the real estate agent with the possibility to design and configure rooms with furniture and it equipment in 3D. The real estate agent can then use the SIERRA Tour app to navigate and explore these rooms remotely in a virtual 3D tour.

Participating students:


Roman Tihonov (Coach), Matthias Schwab (Coach), Andrea Catalucci, Muhammad El-Halaby, Marco Esposito, Christian Flasche, Rene Milzarek, Dennis Mund, Andreas Seitz, Nazmus Shaon, Iurie Tap, Haomiao Zhai, Xue Meng, Natalia Zarawska, Asish Kumar Biswas

Customer:
Rebecca Johnson (Siemens CIT CA), Mahran Meissner (Siemens CIT CA)

 

 

The planning process of Point of Sales (PoS) places within large retail stores can be very hard if it is done by paper. The Point of Sale Designer app was developed to help PoS consultants and store managers to create beautiful sales solutions in 3D on the iPad.

Once the final PoS is determined, the components can be ordered on the iPad by communicating with the back office.

Participating students:
Jun Chen (Coach), Mariana Avezum, Florian Hirschmann, Maximilian Jakasovic, Pawel Kwiecien, Daniel Pater, Nikolaos Sakiotis, Tobias Seitle

Customer:
Jörg Schneider (B/S/H/), Thomas Zachmann (B/S/H/), Jürgen Sturm (B/S/H/)

 

 

 

"Bikes" is an iPhone application, which manages everything concerning the reservation of electric bikes, often called "Pedelecs", for the company employees of NTT Data.

The employee can search for the nearest available Pedelec and reserve it. If all Pedelecs in a certain stations are already reserved, the employee can be ask others if they voluntarily pass their reservation to them. This request can be either done by a phone call or a text message. Furthermore employees can check the battery status of the bikes and determine the range of the Pedelec.

Participating students:
Matthias Schwab (Coach), Altug Bayram, Felix Belau, Isabel Max, Ioana Negoita, Valentin Schlattinger, Stefanos Stamogiorgos, Nikolay Terziyski

Customer:
Michael Unruh (NTT Data), Frank von Eitzen (NTT Data)

 

 

FTI MyWay is an app that provides travel information about a planned vacation such as flights, hotel, rental car and touristic attractions by taking the role of a travel guide.

Before starting the trip, the user specifies their interests so that a travel package can be produced by FTI and sent to the user. During the vacation FTI MyWay shows interesting points of interests and provides insider tips based on the profile and the location of the user. After the trip, users can provide feedback based on their experiences.

Team members:
Stephan Krusche (Project Leader), Daniel Richter (Coach), Michael Gerhardinger, Maryna Ivanova, Felix Sonntag, Pascal Stegmann, Mai Ton, Nu Cam, Fabian Weise

Customer: 
Sophie Mahé (MWea), Angelo Putzolu (FTI)

 

 

 

 

Adesso is a IT consulting company with thousands of employees in many different locations. To help the Adesso sales department in preparation of consultant proposals, two applications were developed in this project.

The Adesso iProfiler makes the employee database accessible on mobile devices for all Adesso employees. The Gioco Adesso is a simulation card game where co-workers can compete against each other to win a consultant contract for a virtual customer.

Participating students:
Linh To (Coach), Anas Chakfeh, Anastasia Kadnikova, Chen-Hsuan Shih, Endri Koci, Julian-Lennart Weigand, Prabesh Shrestha, Sergey Krauze, Sofia Bondarenko

Customer:
Maximilian Aulinger (Adesso), Alexander Frommelt (Adesso)

 

 

 

The Bavarikon portal is a website for art, culture and regional studies provided by the state of Bavaria. The portal provides a variety of different pieces of art in 3D. 

The mission of the project was to develop an iPad and iPhone application which is able to display 3D objects and provide the capability to control the viewpoint and light conditions with gestures such as rotation and zoom.

Participating students:
Dragan Mileski (Coach), Okan Agca, Ivan Bratoev, Xiang Li, Joao Paulo, Maiamaral Fiumari, Alejandro Rueda, Nilson Silva, Florian Weigand

Customer:
Markus Bokowsky (Bokowsky+Laymann), Amel Mahmuzić (Bokowsky+Laymann)

 

 

 

Audiscovery gives Audi-drivers the experience to discover a city in a challenging way. The app allows the user to get to know the city by navigating to more than 10.000 points of interests.

Audiscovery shows the driver how many places have been visited and what regions still have to be explored. Drivers get points for places they have visited and can recommend these places to their friends. 

Participating students:
Robert Weindl (Coach), Wessam Abdrabo, Franz Beilmaier, Hasan Bidav, Christoph Bruns, Hasan Guven Candogan, Michael Conrads, Andreas Eichner, Aleksander Umov

Customer:
Maximilian Reiss (Audi EV)

 

 

Helilog is an iPad application for helicopter pilots in rescue missions. It supports them in their documentation tasks by using context information to minimize user interaction when filling the required reports.

The app can associate and authenticate aircrafts and air crews via QR codes. It reports observed defects automatically by documenting and synchronizing them observed with the backend system. Air crews can fill out required flight documentation (e.g. takeoff or landing position) with minimal user input and receive and display dispatches containing accident information.

The app also supports remote maintenance sessions when remote technicians support the air crew by using images and videos.

Participating students:
Miroslav Knejp (Coach), Elsa Bakiu, Florian Katenbrink, Dominik Münch, Francisco Pinto, Kujtim Rahmani, Thomas Seidl, AL-waleed Shihadeh

Customer:
Andreas Löhr (Linova)

 

 

Shoe comfort, style and preferences come in different size and model. The Jaimie Jacobs app is therefore the perfect match for designing your shoes online and according to your preferences.

With the 3D configuration tool, shoppers can design their own shoes by selecting different colors, materials, heels and decorations. Moreover, they can see a great variety of new shoes.

Designer can apply to become a Jaimie Jacobs merchant and manage their portfolio from the iPad.

Participating students:
Erik Muttersbach (Coach), Mohsen Ahmadvand, Valeria Cortez, Peter Hirschbeck, Martin Kleehaus, Lukasz Kwiatkowski, Milyausha Saleeva, Michael Schuster

Customer:
Florian Tremmel (Jaimie Jacobs), Julian Peters (Jaimie Jacobs)

 

 

 

The Kisi app aims to replace the physical keys to your apartment with a usable but secure app. It allows to select specific doors that can be opened, share the access to a specific door and provide a history log to all access attempts.

Participating students:
Tobias Konsek (Coach), Ertugrul Bircan Copur, Julian Kleine, Sebastian Klepper, Daniel Londono, Aleksandr Sorokoumov, Olcay Tarazan, Andreea Usatenco, Tobias Wolff

Customer:
Bernhard Mehl (Kisi)