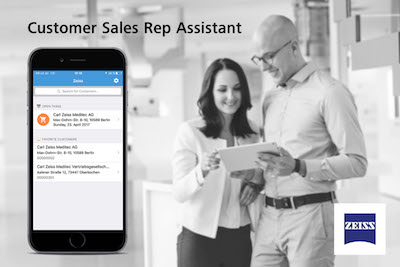 In close cooperation with Carl Zeiss Meditec AG, a team of 7 students developed a mobile app that makes the life of ZEISS customer sales representatives easier. As part of the iPraktikum WS16/17, the team used agile development techniques to build the solution sales representatives really needed.
The app is currently being rolled out in Mexico and Germany. During the development process, the team identified two main use cases: ordering and stock taking. Until now, sales representatives were not able to cover these two use cases in a completely digital way. The team interviewed potential users in Mexico and Germany to identify the problems in the existing processes for these two use cases to prototype and develop a new improved solution. The close cooperation between industry partners and the Chair for Applied Software Engineering gives students the chance to work on real life problems with real customers. Even more, the students' innovative, young and technology-driven approach is a huge opportunity for companies like ZEISS to prototype, develop and rollout new solutions in a fast way.
Carl Zeiss Meditec is happy to be part of the line-up for the iPraktikum summer term 2017 and looking forward to another success story driven by the engagement of young software engineers taking part in the Praktikum.